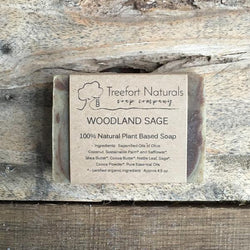 Handcrafted in small batches at our Connecticut soap studio, this soap was created using the old fashioned method of cold process soap making. No synthetic colors, dyes, perfumes, preservatives have been used.
Made with aromatic dried sage, organic nettle leaf and a woodsy essential oil blend that will remind you of camping in an evergreen forest. Unisex scent but guys love this one!
Ingredients: Saponified Oils of Olive, Coconut, Sustainable Palm, Safflower, Saponifeid Cocoa Butter, Organic Nettle Leaf, Sage, Organic Cocoa, Coconut Milk, Pure Essential Oils
The bars of soap are hand-cut and weigh approx. 4.5 oz.