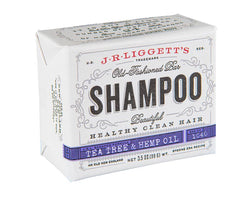 Tea Tree+ Formula Shampoo Bar
Tea Tree Oil has powerful antiseptic and anti-bacterial properties that help enhance our shampoo's abilities to effectively tame dermatitis, itchy-flaky scalp conditions and may also stimulate hair growth!
Last but not least, Almond Oil is also added to provide the ever important moisturizing healthy hair requires.
Unique, contemporary, and totally terrific, this fine formulation of our bar shampoo is based on the original formulation but has no added fragrance. It is designed for people who prefer none, or have allergies to deal with. 
3.5 oz