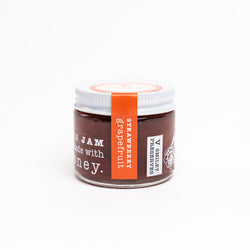 Strawberry Grapefruit Jam 2 oz
Organically grown strawberries with organic grapefruit supremes (the inner segments of the grapefruit). Sweet with a little characteristic bitterness from the grapefruit. This flavor and its soft set is divine with fresh goat cheese (chevre).
Or make frozen daiquiris: Blend until smooth but still icy: 1.5 c (cup) crushed ice, 1.75 oz. strawberry jam, 3 oz. rum, 1/2 c frozen strawberries or peaches, 2.5 (tablespoon) fresh squeezed lime juice, 1 T grapefruit juice. Serve in a chilled cocktail (stemmed) glass and garnish with a lemon wheel (slice).
This honey sweetened jam contains: organic strawberries, honey, grapefruit, apple, lemon juice.