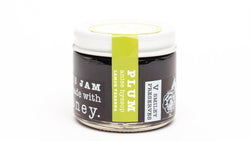 Plum Anise Hyssop Lemon Verbena 2 oz. Jam
The background texture is a plum jelly, long cooked whole plums with all their tartness and intensity brought out. Then fresh plums halves and quarters are added in the final cooking process. At the end, several stalks of lemon verbena and anise hyssop steep in the finished jam. Both of those aromatics are traditional accompaniments for stone fruit and they chat and interplay in a heady, perfumed way. This is an unusual flavor and it's an especially elegant pairing for blue cheese or shaken into whiskey cocktails.
This honey sweetened jam contains: plums, honey, lemon juice, anise hyssop, lemon verbena.