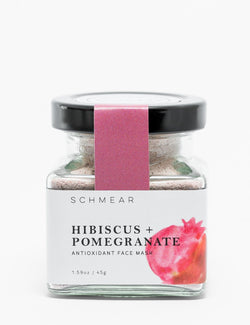 Hibiscus + Pomegranate Antioxidant Face Mask
This deep red superfood face mask is packed with fruit acids and enzymes from hibiscus, pomegranate, tomato, and papaya extract to help brighten and improve the tone and texture of your skin. Sit back and relax as the natural antioxidants, such as vitamin A, C, lycopene, and anthocyanins, help promote your best skin. With uplifting notes of geranium, this mask will leave your skin feeling renewed and balanced.
Formulated for all skin types, and best for mature, sun-damaged, or tired skin.

Made With:
Colloidal Oat, Organic Pomegranate, Organic Hibiscus Flower, Organic Carrot Powder, Papaya Extract, Organic Tomato, Organic Guar Gum, Geranium Oil

Key Ingredients:
• Organic Hibiscus Flower: this plant is sometimes referred to as the "botox plant", boasting natural antioxidant acids and anthocyanides to help combat aging and sun damage.

• Organic Pomegranate: a ruby red fruit that is rich in antioxidants. The Vitamin C found in this fruit is known to help protect against UV damage and promote collagen regeneration. The acidity of the ingredient aids with pH balance and provide acne combating effects.

• Organic Tomato: commonly found in our kitchens, this slightly acidic fruit contains high contents of Vitamin C to help brighten and wake-up skin.

• Colloidal Oats: this soothing ingredient has been used for centuries to cleanse, moisturize, and protect our skin. Rich in natural starches and fibres, colloidal oats help the skin retain moisture and provide irritation relief. We use this ingredient as a base for all of our food masks.


How to Use:
Mix 1 teaspoon of powder with 2 teaspoons of water to desired consistency. SCHMEAR a thin layer on your face, allow to dry for around 10 minutes, and wash off with warm water. Follow-up with your favorite toner and moisturizer.

We recommend using the face mask around 2 to 3 times per week. Try mixing the powder with yogurt, honey, or tea for extra nourishing benefits.