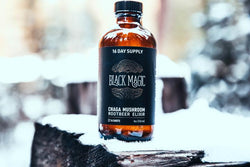 Chaga Rootbeer Traveler Elixir 8 oz
Life's Better On Mushrooms™
Black Magic is an adaptogenic formula of wild chaga mushroom & superherbs helping to enhance mental clarity, skin beauty & supercharge your immune system. 
Take your chaga elixir shot daily or add a dose to all your favorite drinks like coffee, bubbly water or smoothies.
King of the forest, chaga contains the greatest storehouse of medicinal & mystical properties of any superfood in the world. Handcrafted along with 8 legendary herbs, our extraction unlocks the magic of chaga over many moons to transform your health, super-naturally. 
The rare herbal combination to create this elixir not only nourishes your entire body & spirit, it also tastes like ancestral root beer with a dash of vanilla bean forest. Health is meant to be fun! 
May you never be the same.
INGREDIENTS
Artesian Spring Water, Wild Harvested Chaga Mushroom (Sustainably Foraged in Canada), Sarsaparilla Root, Wild Cherry Tree Bark, Organic Dandelion Root, Wild Juniper Berries, Organic Burdock Root, Organic Licorice Root, Unsulphered Organic Blackstrap Molasses, Organic Madagascar Vanilla Beans, Wintergreen, Ceylon Cinnamon, Seasonal Spices, Biodynamic Cane Sugar*, Monk Fruit, Magic 
*Less than 1 gram per serving (the primary sweetness arises from the organic licorice root and un-reconstituted organic stevia)
HOW TO USE
Take 1 - 2 tablespoons daily, day 'n' nite, with or without food. 
The unique herbal combination in the elixir makes it taste like nostalgic vanilla root beer. Yes, we like to save the best news for last! Feel the forest in your cup.
Turn every drink into a superfood by adding Black Magic to your daily coffee, smoothies, matcha lattes, desserts & bubbly water.