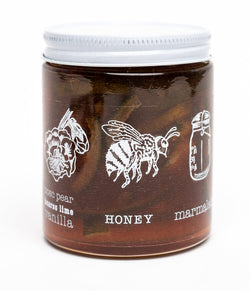 Bosc Pear Lime Vanilla Marmalade 2 oz SALE
Equal parts showy and delicate, this marmalade is balanced enough to eat straight out of the jar, but also makes a ship-shape cooking companion (make a pan sauce for chicken or fish or use a blender to build a creme fraiche + marmalade salad dressing for bitter greens like escarole and raddichio), shake it into a gimlet or best of all, eat it with cheese and eat it with more cheese.
Pear Lime Marmalade pears beautifully with fresh and aged cheeses. Some favorites are Tomme, Pecorino or thinly sliced Parmigiano Reggiano, but it will be great with Chevre too.
This honey sweetened marmalade contains: organic bosc pears, honey, organic persian bearss limes, lemon juice, vanilla bean.