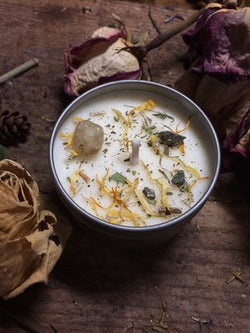 Abundance Ritual Candle Tin 4 oz
A delicious blend of orange and ginger essential oil and topped with goldenrod, calendula, pyrite chips and citrine crystal.
Candle magic is all about sending out positive energy and visualizing your intentions. Use our Abundance Ritual candle are used to attract money, financial gain, fertility, happiness, love, health or abundance at the start of a new year.
Light the candle and focus your energy into visualizing what it is you want. You may remove the crystal prior to lighting or after burning and keep it in your pocket to remind you of your intentions.
Cottage Wicks hand-pours small batches of deliciously scented candles in New England. We use American-grown soy beans for an eco-friendly, clean burn. To offer a unique candle scent we carefully combine premium grade fragrance and essential oils that are phthalate-free. Our cotton wicks are lead-free and primed with vegetable based wax.

We do not add dyes or chemicals.

25-28 hours per candle
1/4 pint