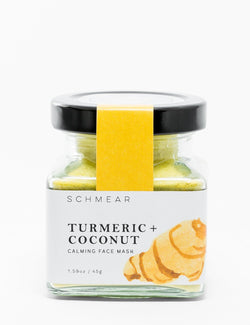 Turmeric + Coconut Calming Face Mask
This vibrant yellow superfood face mask is ideal for calming and soothing your skin. Anti-inflammatory ingredients, such as turmeric, coconut milk, and aloe vera, will naturally calm and nourish your face after a long day. Feel your skin get quenched as the natural starches and fibers from colloidal oats help promote water retention in your skin. With soothing notes of chamomile, this food mask will leave your skin feeling moisturized and nourished.

Formulated for all skin types, and best for dry to combination or irritated skin conditions.

Made With:
Colloidal Oat, Organic Coconut Milk, Organic Turmeric, Organic Aloe Vera, Cucumber Peel Extract, Organic Guar Gum, Roman Chamomile Oil

Key Ingredients:
• Organic Turmeric: a traditional spice native to India and Southeast Asia, this ingredient is rich in curcumin which provides anti-inflammatory benefits to help reduce redness, combat blemishes, and gently cleanse your skin.

• Organic Coconut Milk: the ultimate food-based moisturizer, this ingredient is rich in natural oils that coat our skin to protect from water loss and provide deep hydration.

• Organic Aloe Vera: this soothing ingredient has been used for centuries to help treat burns and infections. This lightweight ingredient is naturally rich in salicylic acid, which helps with clarifying complexion and calming sensitive skin.

• Colloidal Oats: this soothing ingredient has been used for centuries to cleanse, moisturize, and protect our skin. Rich in natural starches and fibers, colloidal oats help the skin retain moisture and provide irritation relief. We use this ingredient as a base for all of our food masks.

How to Use:
Mix 1 teaspoon of powder with 2 teaspoons of water to desired consistency. SCHMEAR a thin layer on your face, allow to dry for around 10 minutes, and wash off with warm water. Follow-up with your favorite toner and moisturizer.

We recommend using the face mask around 2 to 3 times per week. Try mixing the powder with yogurt, honey, or tea for extra nourishing benefits.