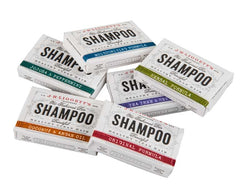 Mini Herbal Shampoo Travel Bar
Rosemary,  Lavender, and Cedarwood. is a wonderful smelling all natural shampoo bar - in mini travel size! 
0.65 oz mini bar
Rosemary is good for dry itchy scalp and promotes hair growth.
Lavender has anti-fungal properties and is good for treating eczema.
Cedarwood has a calming aroma and anti-inflammatory properties.  Great for acne-prone skin.
Vitamins A, B, C, E, and F
This select group of essential oils are combined to create an extremely wonderful smelling all-natural bar of shampoo. It gives you the feeling of early spring with its subtle but distinct fragrance.
J.R.LIGGETT'S Herbal Formula is made from...
Olive Oil
Coconut Oil
Castor Oil
Vitamin E
Rosemary
Lavender
Cedarwood
0.65 oz mini bar