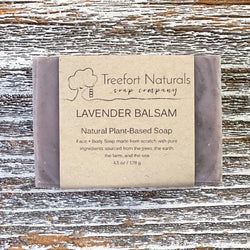 Handcrafted in small batches in our Connecticut soap studio, this soap was created using the old fashioned method of cold process soap making. No synthetic colors, dyes, perfumes, preservatives have been used.
Olive oil soaps are amazingly mild and gently - suitable for even the youngest of babes & those with sensitive skin. This soap is made with extra olive oil and has a silky, luxurious lather. The scent is pure lavender.
Ingredients: Saponified Oils of Olive, Coconut, Sustainable Palm, and Safflower, Kaolin Clay, Alkanet Root, Coconut Milk, Nettle Leaf, Lavender and Balsam Essential Oil
The bars of soap are hand-cut and weigh approx. 4-4.5 oz.