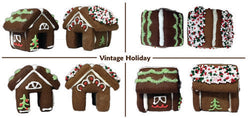 Dark Chocolate Cinnamon Vintage Holiday Duo
Drawn to the magic and charm of traditional gingerbread houses, Mug Buddy brings you the "Vintage Holiday" Mug Buddy set!
Shimmering sugar layered upon a scalloped roof rests above above the royal icing curtained windows. A matching mint green tree ornamented with cardinal red decorates the entry. Next door, a merry combination of colorful nonpareils upon the roof compliment the intricately decorated eaves below. Enjoy the warm glow this classic duo inspires, especially when paired with your favorite warm beverage!

Every Mug Buddy is hand decorated and assembled by an icing artists. 

Packaged in a crystal clear box with complimentary crinkle, the "Winter's Eve" set is perfect for admiring before eating. Each package contains two houses. Single house dimensions: 1.5inX1.5inX1.5in.
Flavor: Dark Chocolate Cinnamon