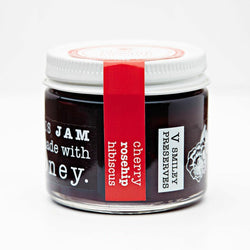 Cherry Rosehip Hibiscus Jam 2 oz
A truly balanced, fruity cherry jam. This jam lives on the sweeter end of the V Smiley Preserves flavor spectrum, which is to say, far less sweet than commercial jam, but sweet enough to always be a best-seller. It's a crowd pleaser and the hibiscus and rosehips keep it real, spotlighting the tart & juicy side of the cherry character.
An all-rounder for eating with cheese, this jam pairs with bloomy rinds (Brie) to alpine styles and washed rinds.
This honey sweetened jam contains: cherries, honey, lemon juice, almond extract, dried organic rosehips, dried organic hibiscus.