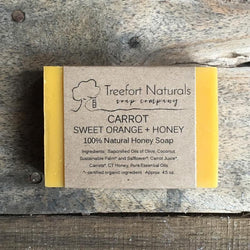 Carrot Sweet Orange + Honey
Handcrafted in small batches in our Connecticut soap studio, this soap was created using the old fashioned method of cold process soap making. No synthetic colors, dyes, perfumes, preservatives have been used.
Carrots are not only good for your eyes, the Vitamin A rich veggie is excellent for your skin! This bar is full of organic carrots, local honey, coconut milk and scented lightly with essential oils of sweet orange and carrot seed.
Makes a great facial bar but can be used as an all-over, everyday bar as well.
Ingredients: Saponified Oils of Olive, Coconut, Sustainable Palm, and Safflower, Carrot Juice, Pureed Carrots, Kaolin Clay, Turmeric, Honey, Coconut Milk, Pure Essential Oils
Bars are hand-cut and weigh approx. 4-4.5 oz.