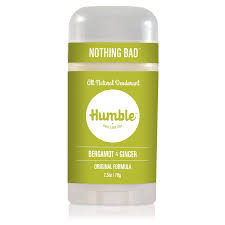 Bergamot & Ginger Deodorant
Any Earl Grey drinkers out there? You'll recognize the spicy, citrusy aroma of bergamot from this distinctive tea. Paired with ginger it's the perfect combo of warm and fresh to brighten your day.
4 Simple Ingredients
Less is truly more with Humble. The Original Formula starts with 4 clean, high-quality and sustainably sourced ingredients: fractionated coconut oil, non-GMO corn starch, beeswax, and baking soda. For scented products, high-quality essential oils are added for a variety of unique, irresistible scents. And the best part is, IT ACTUALLY WORKS!
Essential Oil Profile: Bergamot and Ginger
Nothing Bad
No aluminum, alcohol, dyes, parabens or artificial fragrance.
100% cruelty-free and vegan.
Proud partners of 1% for the Planet. 
Directions for Use
Gently apply 2-3 swipes to your underarms and rub in any excess. A little goes a long way - this much should last you all day.