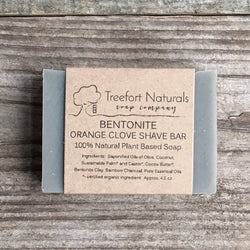 Bentonite Orange Clove Shave Bar
Handcrafted in their Connecticut soap studio, this soap was created using the old fashioned method of cold process soap making. No synthetic colors, dyes, perfumes, preservatives have been used.
Bentonite Clay adds a slippery quality to the lather of this bar which makes it a great choice for shaving in addition to an everyday shower bar.
Ingredients: Saponified Oils of Olive, Coconut, Sustainable Palm and Castor, Cocoa Butter, Bentonite Clay, Activated Bamboo Charcoal, Coconut Milk, Essential Oils of Orange, Black Pepper & Clove.
The bars of soap are hand-cut and weigh approx. 4.5 oz.